Vertical Tastings.
We haven't done Vertical Tastings in years so we've planned one to get us off and running with a couple more in the upcoming months. In a vertical tasting we start with the youngest wine of a particular varietal and proceed to the older vintages. We look at how they have aged and the reasons why – perhaps it was because it was a dry year or a wet year, cold or warm – lots of nuances. We will be doing more of these throughout the year so watch for them on our website and in our e-news. The Riesling one is generally with our 'Riesling and Seafood Sunday' Day in August. We will plan a vertical tasting of Pinot Noir for July probably. Always limited numbers and the day will include food to match the wines. So we start the year with the following Vertical Tasting: see below
---
Vertical Tasting Semillon & Chardonnay. Sat 5 May, 12:00 noon
We will get some older vintages of these two varietals out of the Museum Stock and see how they have aged and matured starting with the Semillon. Semillon is a wonderful wine to age and goes through three distinct phases of life, so be prepared for some fine aged Semillon. Then we move onto the Chardonnay flight. Both flights will be served with food to match.
By the time you've finished, you will understand how White Wine from a Cool (Cold) area ages and you too will start to age some Chardonnays and Semillons.
Book in early as numbers are strictly limited. T (03) 5428 2228 Cost: $60 pp Start 12:00 noon.
---
Mother's Day, Sunday May 13
Celebrate Mother's Day at Gisborne Peak Winery. A casual, fun and friendly atmosphere will ensure your Mother's Day celebrations will be a real hit with mum. Start with a glass of Sparkling Wine, wine or soft drink.
Then enjoy a shared Taster's Platter followed by our our delicious wood-fired pizza. Finish with a delicious dessert.
All this for only $48.00 per person. Children ages 4 through 11 are $22.00 pp. and receive a Margherita pizza and dessert. Children 3 and under are at no charge. Please advise us if you require extra room for a pram. We have limited high chairs, so book one of them early.
Bookings are now open. A $20.00 pp credit card non-refundable deposit is required upon booking and will be deducted from your total tab.
Package includes: Glass of sparkling wine, wine or soft drink on arrival, Taster's Platter, wood-fired pizza and dessert.
Espresso coffee at $3.50
Gluten Free Pizzas and Gluten Free Dessert are available at an extra cost of $3.00. Please advise in advance any dietary requirements what sort of GF pizza is required.
All of our wines are available by the glass or bottle and we also have beer and soft drink. Come along for a relaxed Mother's Day.
Bookings on 5428 2228. Please note: we have no particular facilities for children nor any playground equipment. Due to the unfenced deep water next to the cellar door we ask that children either be seated at all times or accompanied by an adult if not at the table.
---
Vintage Report 2018 with Bob
---
Two Down, Three to go! We will most likely be picking Riesling and Semillon this coming weekend. These varieties are always at the end of autumn although somewhat earlier than last year. They are still the last grapes to be picked in the region. That only leaves our little plot of Lagrien and as long as there is sun shining in the sky I'll leave it out as any bit of lightness we can get will benefit this crop. The vines are in good condition, plenty of green leaves could sustain these vines into the middle of May if needed.
What we picked so far has been record volumes of Chardonnay and Pinot and excellent fruit quality. They are clean, no disease and no wasp damage because we have very few wasps around the property. This is due to a continuous eradication program that I've put into action over the past few years. Catching and killing the 'Queen Wasps' early in the season is the real trick and then to be on constant watch for nests that may form and destroying them. So, it's a pleasure to sit out on the deck and not be distracted or worried about wasps.
All the Pinot and Chardonnay nets are in and we are able to give the vineyard a post-harvest 'thank you' watering which will help the vines to store carbohydrates and get a great start next season.
So all in all, 2018 is a very good year!
Watch for wine releases throughout the year and in a few years' time for the Chardonnay and Pinot.
---
Cottage Special: Stay in May
We have a special deal on a stay in one of our Winery Cottages for the month of May. Take your choice of one the offers.
The cottages continually receive 5-Star reviews on TripAdvisor. We're very proud of them and the comments we receive from our guests are wonderful. We would love to have you 'Stay in May'. You must book directly with us to get these special offers. Phone us on (03) 5428 2228
Stay Two Nights mid-week (Sunday – Thursday) and get the Third night for FREE
Stay Two Nights and get a bottle of PEAK Sparkling Wine FREE
Stay One Night mid-week and get a FREE coffee and cake for two at cellar door
Stay Two Nights weekend (Fri & Sat) and get a free glass of wine pp with lunch at the cellar door
To get one of these special you must book directly with us on T. (03) 5428 2228 as they are not available online.
---
'Let's Roll' - a great travel blog.
We are thrilled to be mentioned on this wonderful travel blog produced by The flight Network. Gisborne Peak Winery is mentioned in an article called 'Australia and New Zealand's best keep secret tours and you can read it here: https://www.flightnetwork.com.au/blog/australia-and-new-zealands-best-kept-secret-tours/. We are mentioned in the 'Cuisine' feature of the article.
If you ever need any inspiration about where to go and what to do, head to this site and check out the recommendations. I've just discovered about 20 years of holidays yet to be taken. Have a look - at least armchair travel is a little bit like being there, right??
---
Pizza of the Month, and we need your suggestions
Finally! We are introducing some additions to the food we serve here at the winery. I think I hear a big sigh of relief out there and a few cheers too! First, a Pizza of the Month. As it implies, this will be a changing pizza. We have some ideas and we've been pinching pizza menus from various places but if you have a really, really good, favourite pizza, let us know. There are forms on our tables and on the information table at the entrance for ideas. You can also just email us your ideas too. Who knows what glory you will get if your suggested pizza is once chosen for the 'Pizza of the Month'? Fame and fortune no doubt!
---
Our Facebook Page - a fountain of information!
Our Facebook Page has really come to life now that Caroline has taken custody of it! We hope you are following it as our newsletters are few and far between and there are always updates on what is happening at the winery on Facebook. If not, click here to view the page and click on 'Follow'. We're also on Instagram with some great photos we've taken and some that our guests have taken and shared with us. How about you taking a photo, share it with us and it might get on the Instagram page. We love to share your photographic memories.
---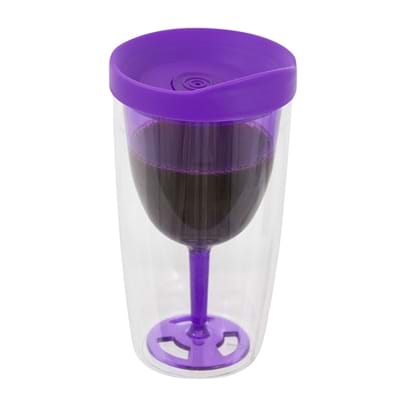 'The Traveller' Wine Glass
EVERY GIRL SHOULD HAVE ONE!
This acrylic wine glass is perfect and has so many benefits! Such as:
Keeps your wine chilled, or at pouring temperature (although you cannot open it to put wine in the outside bit - it would be a good feature though).
Has a lid like a coffee cup for drinking - avoid those messy wine spills
Great for outdoors! Stops flys and wasps from sharing your wine.
Perfect for boats.
Almost unbreakable acrylic. I don't put mine in the dishwasher as some dishwashers put 'cracks' in the acrylic.
You can now order online. Only $19.95 each and very light to post to you. Postage is extra and we will call you for approval to charge your freight costs. OR, pick them up in cellar door. We have sourced these from the USA and have limited stock, so if you want one or two or three as gifts, or for yourself, get in quick! Call us to hold some for you on 5428 2228.
They come in this purple colour or black. Specify which colour on the checkout instructions (delivery instructions) on the mail order form, or just give us a call.
---
A Video of Bob - taken, edited and posted by son David