Annual Pruning Day, Sat 21 July. Hands On Day
This is just one of the Hands-On Days in the Vineyard that the winery offers to our visitors and Adoptive Parents so that you can better understand the vine-to-wine process.
The day starts at 9:15 a.m. with registration and coffee. Bob Nixon, owner and viticulturist, then runs a theory and safety class starting at 9:30 a.m. in the different styles of pruning used in the vineyard. These pruning skills are very transferable to most bushes, plants and shrubs around the home garden. Three styles of pruning are used at Gisborne Peak Winery.
Then, armed with your new knowledge you then practice your new-found skills in the vineyard, under supervision naturally. Some will learn quickly, others are more hesitant but in the end you will all have some new confidence and have learned, or honed, a very practical skill.
The day will end with lunch - some of the delicious wood-fired pizzas that the winery is known for along with a hearty bowl of soup and a glass of estate wine. All of this for $20.00 pp. if you are part of the Adopt-a-Vine Program or $30.00 pp if you are not.
Please let us know that you plan to attend. Email us or phone us on 5428 2228.
---
'Riesling & Seafood Sunday' 15 July
This is one of our favourite days because it gives everyone a chance to gain a greater, or a new appreciation of the wonderful combination that is Riesling and Seafood. We feel Riesling rarely gets the love and attention it deserves, so this is our way of giving Riesling a day in the sun (or rain).
This year we will be featuring four aged Rieslings from our Estate. You start with the youngest wine and work your way through the years and taste the differences. It is a great way to experience how Riesling ages.
Seafood galore this year! We are offering oysters Natural and Kilpatrick, as well as Smoked Salmon and Battered Flathead Tails. Like them all? Then order the Seafood Platter that has some of everything on it along with salad and our special GPW sauce.
As we have to pre-order the oysters we ask that you phone us with a booking and let us know if you will be wanting oysters and how many. That would help to ensure that we have plenty of oysters to go around so no one misses out! Bookings absolutely essential (03) 5428 2228.
The costs for the Riesling and Seafood Sunday will be:
Seafood Platter: A bit of everything: 2 Oysters Natural, 2 Oysters Kilpatrick, 2 Battered Flathead Tails, 2 Prawn Dumplings and Smoked Salmon with capers all served with Salad, Toasted Turkish Bread, Tartare Sauce and Special GPW Seafood Sauce. $38.00
Oysters: $19.00 half dozen (Natural or Kilpatrick)
$30.00 a dozen
Battered Flathead Tails: Battered Flathead Tails served with Salad and Toasted Turkish Bread and Special GPW Seafood Sauce. $19.00
Flight of Aged Riesling: $15.00
Hope you can make it. We were very busy last year so be sure to book a table and approx. number of oysters required. Note: Due to this special menu, some of our other menu items will not be available.
---
---
Groups Bookings - Birthday Parties, Family Gatherings, just no weddings!
Are you aware of our Group Packages for 10 + people and our special areas? Did you know that we have an upstairs area perfect for groups of 15-30 people? Just ask to see it. Obviously there is the heated marquee which holds up to 55 friends and family.
Natalie is our Group Coordinator or talk to any staff member for an information sheet. Look online here for our group packages, prices and private areas.
---
---
TripAdvisor Certificate of Excellence and Hall of Fame Award
We have just been notified that our Winery Cottages have been inducted into the TripAdvisor Hall of Fame. The cottages have been given the Certificate of Excellence for five years in a row which puts them into the Hall of Fame. We're thrilled and very proud of the cottages and the team that makes them so special. That includes our staff at cellar door who are generally the first point of contact upon check in and the behind-the-scene cleaners.
As a celebration we are offering a 25% discount for anyone who mentions 'Hall of Fame' and books direct with us for any stay in June, July or August. Call us for details. 5428 2228 or book a cottage online.
---
New Tasting Experience at Cellar Door
We've put a new option on the cellar door for you to try four half glasses of our wines with extended tasting notes and enjoy these at your table. This is the equivalent of two full glasses and you get it for $20 (value of $22.75). It's a bit of fun and educational and you get to try a few wines rather than just one wine. Try it next time you visit.
---
---
Four 'Heads-Up' Days (forward planning!)
August 25 & 26: Pork Knuckle served with two sides. Ana's back & this is Ana's special! Cost TBA. Must be pre-ordered.
Father's Day and Celebrate Grand-dad Day: Saturday & Sunday September 1 and 2.
Grand Final Holiday – Friday 28 September. Trivia Day! Get a team together, 2, 4, or 6 people, call yourselves anything you want, and participate in our first 'Football Grand Final Trivia Day'. Wear your favourite footy colours and there will be prizes for all sorts of things. Footy food will be available along with our regular menu.
October 20 (Saturday): 'In the Shed With Bob'. Hanging around in the wine shed with Bob. Old wines, surprise wines, current wines. You never know what you will find. Some nice warm soup will be on the boil. Limited numbers. Phone or email to book. Cost TBA. Bookings not yet open.
---
---
Our Facebook Page - a fountain of information!
Our Facebook Page has really come to life now that Caroline has taken custody of it! We hope you are following it as our newsletters are few and far between and there are always updates on what is happening at the winery on Facebook. If not, click here to view the page and click on 'Follow'. We're also on Instagram with some great photos we've taken and some that our guests have taken and shared with us. How about you taking a photo, share it with us and it might get on the Instagram page. We love to share your photographic memories.
---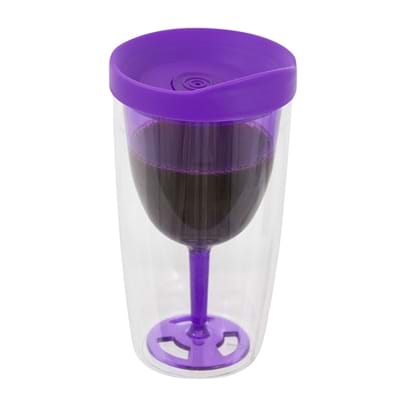 'The Traveller' Wine Glass
EVERY GIRL SHOULD HAVE ONE!
This acrylic wine glass is perfect and has so many benefits! Such as:
Keeps your wine chilled, or at pouring temperature (although you cannot open it to put wine in the outside bit - it would be a good feature though).
Has a lid like a coffee cup for drinking - avoid those messy wine spills
Great for outdoors! Stops flys and wasps from sharing your wine.
Perfect for boats.
Almost unbreakable acrylic. I don't put mine in the dishwasher as some dishwashers put 'cracks' in the acrylic.
You can now order online. Only $19.95 each and very light to post to you. Postage is extra and we will call you for approval to charge your freight costs. OR, pick them up in cellar door. We have sourced these from the USA and have limited stock, so if you want one or two or three as gifts, or for yourself, get in quick! Call us to hold some for you on 5428 2228.
They come in this purple colour or black. Specify which colour on the checkout instructions (delivery instructions) on the mail order form, or just give us a call.
---
A Video of Bob - taken, edited and posted by son David