ANNOUNCING: NEW 'Pick-Up Pizza & Wine Service' $50 - Two Pizzas and a Bottle of Wine. $79 Value for $50
PLUS, you get a voucher for when we reopen for a 'Buy One, get one free pizza and/or glass of wine' Valid to 31 December 2020
Available 12:00 - 7:30 pm FRIDAY, SATURDAY AND SUNDAY ONLY
Easter Weekend available Friday, Saturday, Sunday AND Monday
Still want one of our delicious wood-fired pizzas and an excellent bottle of our wine? Fear not... we are now offering a phone in, drive through pick up service of pizza and wine. Please phone for details. Phone (03) 5428 2228 or 0432 185 009. Two plastic wine glasses included in each order OR add $10 and get two GPW etched International Taster's wine glasses to keep.
The cost is $50 and you get two pizzas of your choice and a bottle of wine.
Add Garlic Bread $7.00 or Cheesy Garlic Bread for $8.00
Upgrade to $60 to include a bottle of our Premium Sparkling Pinot Noir
Pizza Choices: (no changes, no gluten free available): See full description of pizzas here
Tuscan
Ham & Cheese
BBQ Chicken
Roast Pumpkin Vegetarian
Wines Available:
Sparkling White
Semillon, (Classic Dry White)
Riesling
Chardonnay Unwooded
Chardonnay Premium
Pinot Noir
Shiraz
Sparkling Pinot Noir ($10 surcharge)
Order your pizza by phone and drive through for pick up or park your car and picnic here. Have a credit card ready when ordering and we will process it prior to your arrival to avoid extra handling.
EXTRAS AVAILABLE: ADDITIONAL GOURMET PIZZA ONLY $12.50, ADDITIONAL BOTTLE OF WINE ONLY $20.
Garlic Bread $7.00 Cheesy Garlic Bread $8.00
Add $10 to get two Gisborne Peak etched International Wine glasses to keep.
SOFT DRINKS AVAILABLE $4.00 Coke, Coke no Sugar, Fanta, Sprite, Solo or Flavoured Mineral Waters.
PLEASE; if you picnic here, or anywhere, TAKE YOUR RUBBISH WITH YOU! We appreciate it.
---
Gourmet TravellerWINE Mag 2020 Best Cellar Door Winner!
We are so proud and pleased to be named in the Gourmet Traveller WINE Magazine 2020 Best Cellar Door Awards. We have been gonged for the Winery with Best Accommodation, Macedon Ranges/Sunbury Region.
The GT Wine April/May issue has recognised and celebrated the best of our country's wonderful and diverse cellar doors. In this 10th edition of their Best Cellar Door Awards they flag the top destinations for food, wine, unique experience and accommodation in every State.
You can read about them by clicking here but there is a limit on browsing without purchasing. However it is only $.050 per week to have access to the digital version (6 issues) and it is a great read. I encourage you to subscribe.
We thank Judy Sarris, Editor Gourmet Traveller WINE and her team on giving the small, and large, wineries of Australia some much needed kudos at this trying time.
---
New Seating Arrangements
In the safety and comfort of our patrons and staff, we have reduced our seating capacity by removing tables and chairs inside our Fireside Room and Veranda. We are using alternate tables on the deck. We have also set our marquee with individual tables for use and this room offers the flexibility of open sides for plenty of fresh air flow. This new seating arrangement ensures your 'social distance' from other patrons.
We have plenty of room on the property as well. If the weather permits, why not bring along a picnic blanket or run and enjoy your food and wines in the vines. We have designated areas for picnics and the views are beautiful. We are also Dog Friendly so bring along your four legged friend.
DUE TO LIMITED SEATING WE ASK THAT YOU PHONE TO ENSURE THAT WE SAVE A TABLE FOR YOU.
Phone: 5428 2228 or 0432 185 009
---
New Wine Tasting Experience
Come in and enjoy a Complimentary tasting of OUR 4 favourite wines served to your table including Tasting Notes. Choose YOUR favourite to have with one of our delicious wood fired pizzas, Taster's Platter, baked brie or beer battered flathead tails.
Choose to dine in our spacious Fireside Room, verandah or on our large open air deck, forecourt or on the Lawn overlooking our Dam. Gisborne Peak Winery offers lots of open space, alfresco and outdoor dining, great food and wine and friendly staff.
We are removed half of our tables and chairs to ensure safe 'social distancing' at all times.
Wines on Tasting are:
Riesling
2018 Chardonnay
Rose
Pinot Noir
---
Hands On Day: Canopy Management Sat 18 Jan
POSTPONED. TO BE RE-SCHEDULED.
Each year we plan a couple of hands-on days in the vineyard to show you how we turn sunlight into wine because it all starts in the vineyard. On this Saturday we start at 9.30am sharp with a short but essential classroom exercise. There are 2 important facets of this session. First we need to cover the O.H. & S. requirements so that we can enjoy a trouble free time together in the vineyard. Secondly we need to teach you the theory before we try the practice.

At Gisborne Peak we have been growing grapes for wine for 30 years now. Over that time we have learned how to get the best balance between our trellis type, canopy density and plant vigour and the climate to produce what we believe are the best grapes we can possibly deliver into the wine-making phase. This day is all about seeing how the parts of the puzzle fit together in the vineyard at least.

It is an interesting experience, something that you might only do once but something that you will be happy to have done we are sure. Much of what you learn can be transposed into improving the performance of your garden at home.

After the class work and a brief morning tea we go into the vineyard for about an hour to learn first hand the art/science of canopy management before you are assigned a small patch of vines to work on by yourself, that's solo, alone, unsupervised and as an individual in case you were unclear. You will be amazed at how quickly you learn to deal with the principles that you were taught and help us turn some sunlight into wine. Help is always at hand!
Then it's back to the marquee for a de-brief and lunch. We finish by about 1:00.
Please let us know that you are coming by phoning us on (03) 5428 2228 or email us. There is a $25 pp charge to cover the training, a substantial morning tea, lunch and a glass of wine. Everyone is welcome whether you are an Adopt-a-Vine parent or not.
---
---
Luscious Lagrein
Our 2015 Lagrein has been released and is selling so well at cellar door. People are loving it!
It's been a long time coming! I think 'Patience' should be written on the label somewhere because that is what was required to hang in there with this 'experimental' grape exercise. Bob always had faith in this grape varietal and that it would 'come good' one day but I was the doubting Tom. Then one day we opened the already bottled 2015 Lagrein and it was like a teenager that suddenly was a nice kid. We all know what that's about. All of a sudden (after 4 years!) it settled down in the bottle and has blossomed.
Available in cellar door for only $29.50 per bottle.
---
---
Stay & Play (Golf)
A great present for the GOLFER in your life. The Package includes an overnight stay in one of our lovely self-contained Winery Cottages, including breakfast. Then off to the Gisborne Golf Club for either 9 holes or 18 holes of golf. This is a beautiful golf course with views and even resident kangaroos. Also included is a Lunch for Two at the winery including a glass of wine each, a wood fired pizza each, dessert and coffee.
Conditions: golf is available Monday - Friday. Overnight stays are available Sunday - Thursday nights.
Phone the winery on (03) 5428 2228 to purchase. A personalised Gift Voucher will be sent to you.
---
In the Shed with Bob. It was so much fun
Spend an afternoon with Bob in his wine shed exploring some very old, some fairly old and some recently old wines! This is the third time we have run this event and it is a real 'out of the box' day.
Bob takes you through each variety of wine in 'flights' - 4 wines to a flight. There will be about six flights of wine with food to match, so it's an involved day! The shed is a 'working shed', so dress warm with nice thick shoes. It's rustic, it's authentic!
Start at 12:30 for a welcome drink and a 'get to know you' for a 1:00 sit down.
You will discover, along with Bob, some hidden treasurers. Numbers are really limited as the shed is not that big, so book early.
Cost $75.00 includes all food and wine. Adopt-a-Vine Parents can book for $68.00.
May we recommend that you organise transport home, or better still book one of our cottages. We currently have 2 available for the night.
Book Here. Prefer to phone to book? Call us on (03) 5428 2228 (payment taken upon booking).
Adopt-a-Vine Member? Then book here.
PS: Park in the 'Staff' car park.
---
---
Pruning Day - Class of 2019
We had a great time on Saturday 20 July with 22 willing and ready participants. After some class time with Bob and some not-to-be-missed morning tea by Barb, it was off to the vines armed with sharpened secateurs and blue twine. Watch out vines!! Trepidation and terror set in but after a little bit of practice and patience their skills and confidence were much improved.
Lots of laughs, fun and new friendships! Lunch of Taster's Platters, pizzas, wine (did I say more wine) was enjoyed by everyone. Join us for our next Hands-On day in January 2020 but first there is Picnic in the Vines on Saturday 7 December.

---
'In the Vines' with Bob.
As of 8th March 2019
Picking is getting closer by the day. Measurements today show the Pinot and Chardonnay both sitting on around 10.5 Alc potential and that means we need another 2– 2.5 % additional potential to reach an optimal level of ripeness. Given the forecast that should happen in about four-five weeks' time, subject to weather of course.
The fruit is in exceptionally good condition and at this very moment no disease no European wasps and very little bird damage. The vines have plenty of green leaves to continue their job so I reckon it's time to turn the water off and let them focus on their job of ripening.
If you are interested in joining us for the pick it's looking like first or second weekend in April. More about that later.
---
---
Duet - It's Back!
Due to popular demand our blend of Chardonnay and Semillon is back on the shelves this weekend. The 55% Chardonnay and the rest Semillon, both unwooded, is the formula and the Semillon was allowed to sit on lees to let it soften off. This is a 2018 vintage of both grapes. It is an ideal wine to have with tapas, cheese platters, Marinated white anchovies, roasted chicken with thyme, really anything light and delicious. It's truly a 'classic CDW – a Classic Dry White'. The two make a full-bodied white wine with waxy, tropical flavours.
---
---
We're Still Here!
It's funny how rumours get going isn't it! I guess this is how 'Fake News' starts. In our last newsletter we mentioned that GPW has just been listed on the market for sale. We realise that it is a unique property and it will take a while to find the right buyer. When we know, everyone will know, we promised that. But, I'm getting calls and emails with people saying they heard we were now closed, that we had to rip out the vines in order to sell, that they wanted to book for next week but the winery might not be here, etc, etc. Folks, it's business as usual until you hear (from us) differently. Even when we do sell it will be as an ongoing business with some changes no doubt. So don't listen to the rumours, continue supporting us and the resellers of our wines. We're still here! Hope to see you soon.
---
---
And the winner is: 2011 Riesling!
On Sunday 15 July we had our 'ever so good' Riesling and Seafood Sunday. We tasted four aged Riesling in a flight and it included Rieslling 2014, 2011, 2008 and 2006. Different opinions, different people tasting, different palates but by far, the People's Choice was the 2011! We were quite surprised at that result. Bob, Barbara and Natalie all loved the 2006, Michael liked the 2008. Just goes to show.... people's tastes are different as are their likes.
this event will be held again in Summer. don't miss it.
---
---
---
Groups Bookings - Birthday Parties, Family Gatherings, just no weddings!
Are you aware of our Group Packages for 10 + people and our special areas? Did you know that we have an upstairs area perfect for groups of 15-30 people? Just ask to see it. Obviously there is the heated marquee which holds up to 55 friends and family.
Natalie is our Group Coordinator or talk to any staff member for an information sheet. Look online here for our group packages, prices and private areas.
---
---
TripAdvisor Certificate of Excellence and Hall of Fame Award
We have just been notified that our Winery Cottages have been inducted into the TripAdvisor Hall of Fame. The cottages have been given the Certificate of Excellence for five years in a row which puts them into the Hall of Fame. We're thrilled and very proud of the cottages and the team that makes them so special. That includes our staff at cellar door who are generally the first point of contact upon check in and the behind-the-scene cleaners.
As a celebration we are offering a 25% discount for anyone who mentions 'Hall of Fame' and books direct with us for any stay in June, July or August. Call us for details. 5428 2228 or book a cottage online.
---
New Tasting Experience at Cellar Door
We've put a new option on the cellar door for you to try four half glasses of our wines with extended tasting notes and enjoy these at your table. This is the equivalent of two full glasses and you get it for $20 (value of $22.75). It's a bit of fun and educational and you get to try a few wines rather than just one wine. Try it next time you visit.
---
---
Four 'Heads-Up' Days (forward planning!)
Father's Day and Celebrate Grand-dad Day: Saturday & Sunday September 1 and 2.
Grand Final Holiday – Friday 28 September. Trivia Day! Get a team together, 2, 4, or 6 people, call yourselves anything you want, and participate in our first 'Football Grand Final Trivia Day'. Wear your favourite footy colours and there will be prizes for all sorts of things. Footy food will be available along with our regular menu.
October 20 (Saturday): 'In the Shed With Bob'. Hanging around in the wine shed with Bob. Old wines, surprise wines, current wines. You never know what you will find. Some nice warm soup will be on the boil. Limited numbers. Phone or email to book. Cost TBA. Bookings not yet open.
---
Our Facebook Page - a fountain of information!
---
Our Facebook Page has really come to life now that Caroline has taken custody of it! We hope you are following it as our newsletters are few and far between and there are always updates on what is happening at the winery on Facebook. If not, click here to view the page and click on 'Follow'. We're also on Instagram with some great photos we've taken and some that our guests have taken and shared with us. How about you taking a photo, share it with us and it might get on the Instagram page. We love to share your photographic memories.
---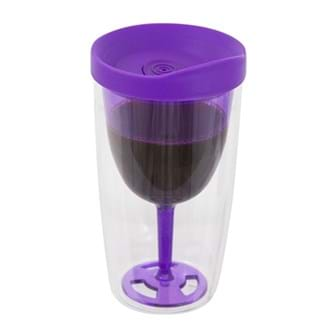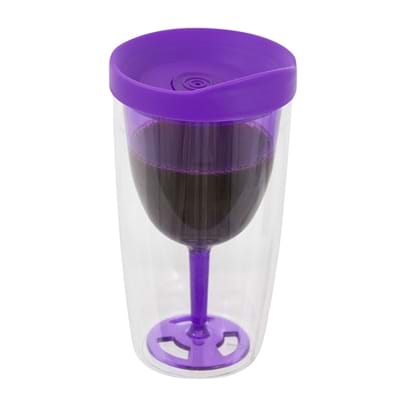 'The Traveller' Wine Glass
EVERY GIRL SHOULD HAVE ONE!
This acrylic wine glass is perfect and has so many benefits! Such as:
Keeps your wine chilled, or at pouring temperature (although you cannot open it to put wine in the outside bit - it would be a good feature though).
Has a lid like a coffee cup for drinking - avoid those messy wine spills
Great for outdoors! Stops flys and wasps from sharing your wine.
Perfect for boats.
Almost unbreakable acrylic. I don't put mine in the dishwasher as some dishwashers put 'cracks' in the acrylic.
You can now order online. Only $19.95 each and very light to post to you. Postage is extra and we will call you for approval to charge your freight costs. OR, pick them up in cellar door. We have sourced these from the USA and have limited stock, so if you want one or two or three as gifts, or for yourself, get in quick! Call us to hold some for you on 5428 2228.
They come in this purple colour or black. Specify which colour on the checkout instructions (delivery instructions) on the mail order form, or just give us a call.
---
A Video of Bob - taken, edited and posted by son David
---
Giborne Peak Winery - a one-minute perspective
Gisborne Peak Winery in 60 seconds. Think Food, Fun and Friends and you've got it summed up. Then, toss in some excellent wines and Voila! A good time! Enjoy
Pruning the Lagrein vines
A video of Bob pruning the Lagrein vines. It is important to get this done before the end of the winter.