Picnic in the Vines, Sat 2 Dec.
---
Date: Saturday, 2nd December 2017
It's Picnic In The Vines time of year again, and this year we're opening the day up to everyone! For those of you unfamiliar with the event, Picnic In The Vines happens every December. It's a fun relaxed day when everyone is encouraged to bring along a picnic, or order from our Cellar Door Menu, and find a spot out in the vineyard.
Historically this has been run exclusively for our Adopt a Vine Parents, however, this year we're opening up the vineyard for everyone, so if you don't have your very own vine, you can become a surrogate for the day!
One of the highlights of the day, is the vine decorating competition – it's the festive season, and what better way to celebrate than by giving your vine some festive cheer?! Tinsel, baubles and ribbon are always popular additions, but feel free to get creative! Do bare in mind that your decorations will be left here and exposed to the elements – so don't bring anything you mind leaving behind. Barb will utilize her keen eye for design and judge all the vines at 2:30pm, after which a winner will be announced and prizes awarded.

This is one of our absolute favourite days at Gisborne Peak, and we hope it will soon be yours too, but there are a few ground rules we need to highlight:
Due to the fragility of the vines at this particular time of year, it is of the utmost importance that, children and adults alike, do not knock the vines, break off any of the new shoots or pick any fruit.
We ask that you do not wear any clothing or footwear that has been worn at other vineyards in the last 7 days.
Last but not least, you are welcome and encouraged to bring picnic food from home, however all drinks (both alcoholic and non-alcoholic) must be purchased from Cellar Door. No BYO.
We do need to get an indication of numbers, so please contact us (details below) if you'd like to come along and join in! If you'd like to order food from our Cellar Door Menu, please let us know in advance. We can't wait to see you all amongst the vines, enjoying the scenery and atmosphere!

Phone: (03) 5428 2228 Email: info@gisbornepeakwines.com.au
---
Get Well Caroline
Our alternate weekend Manager, Caroline, had a rather nasty encounter with a kerb and gutter in Kyneton. And I'm afraid the kerb and gutter won! She managed to break bones in both legs and ankles and is being held together by pins and plates - Ouch!
Caroline is still managing to do her computer work from her hospital bed and I'm sure that in no time flat she will be having the hospital staff working for her!
The GPW family put together a 'Get Well' and we're thinking about you video for her. We hope it made her smile and to know that she is valued and missed.
---
Personalised Wine Labels - order now
Wondering what to give those hard-to-buy-for people? Perfect for gift giving for Christmas and end-of-year 'Thank You' gifts. An excellent opportunity to impress your colleagues, work associates, family and friends! Not just another wine, but a wine from your name and with your message on the label. A very clever and premium quality wine too! Order now for Christmas! Wine with your name on the label!

Previously we offered these labels only to our Adopt-a-Vine parents, but we are now offering this to all of our friends.

The wine is all from our vineyard located in the cool-climate Macedon Ranges Wine Region, Victoria

Delivery in Australia only. Allow two weeks for processing and delivery
Click Here for an Order Form if you are an Adopt-a-Vine Parent
---
Pizza of the Month, and we need your suggestions
Finally! We are introducing some additions to the food we serve here at the winery. I think I hear a big sigh of relief out there and a few cheers too! First, a Pizza of the Month. As it implies, this will be a changing pizza. We have some ideas and we've been pinching pizza menus from various places but if you have a really, really good, favourite pizza, let us know. There are forms on our tables and on the information table at the entrance for ideas. You can also just email us your ideas too. Who knows what glory you will get if your suggested pizza is once chosen for the 'Pizza of the Month'? Fame and fortune no doubt!
---
Our Facebook Page - a fountain of information!
Our Facebook Page has really come to life now that Caroline has taken custody of it! We hope you are following it as our newsletters are few and far between and there are always updates on what is happening at the winery on Facebook. If not, click here to view the page and click on 'Follow'. We're also on Instagram with some great photos we've taken and some that our guests have taken and shared with us. How about you taking a photo, share it with us and it might get on the Instagram page. We love to share your photographic memories.
---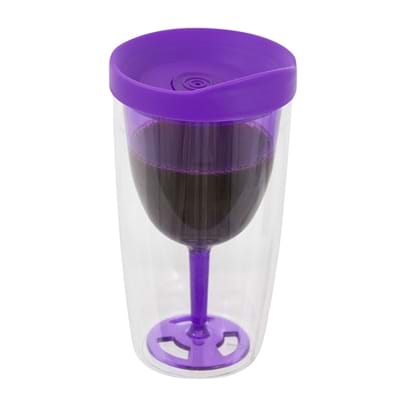 'The Traveller' Wine Glass
EVERY GIRL SHOULD HAVE ONE!
This acrylic wine glass is perfect and has so many benefits! Such as:
Keeps your wine chilled, or at pouring temperature (although you cannot open it to put wine in the outside bit - it would be a good feature though).
Has a lid like a coffee cup for drinking - avoid those messy wine spills
Great for outdoors! Stops flys and wasps from sharing your wine.
Perfect for boats.
Almost unbreakable acrylic. I don't put mine in the dishwasher as some dishwashers put 'cracks' in the acrylic.
You can now order online. Only $19.95 each and very light to post to you. Postage is extra and we will call you for approval to charge your freight costs. OR, pick them up in cellar door. We have sourced these from the USA and have limited stock, so if you want one or two or three as gifts, or for yourself, get in quick! Call us to hold some for you on 5428 2228.
They come in this purple colour or black. Specify which colour on the checkout instructions (delivery instructions) on the mail order form, or just give us a call.
---
A Video of Bob - taken, edited and posted by son David