---
---
Riesling & Seafood Sunday
Sunday 25 August only
It's on again - the day when we bring out our aged Rieslings and serve the most delicious Seafood Platter. This year it will be oysters two-ways, beer battered flathead tails, seafood chowder and smoked salmon, served with warm Turkish Bread. What a feast, especially paired with a glass, or flight of our Riesling.
Platters and oysters must be pre-ordered on (03) 5428 222
---
Father's Day Sunday 1 September
Celebrate Father's Day at Gisborne Peak Winery. A casual, fun and friendly atmosphere will ensure your Father's Day celebrations will be a real hit with dad. Start with a glass of Sparkling Wine, a glass of Wine, a beer or a soft drink.
Then enjoy a shared Taster's Platter followed by our delicious wood-fired pizza. Finish with a delicious dessert. All this for only $55.00 per person. Children ages 4 through 11 are $25.00 pp. Children 3 and under are free. A non-refundable $20.00 deposit is required at time of booking. Please advise us if you require extra room for a pram. We have limited high chairs, so book one of them early. We book out on this day so be sure to make your booking early.
Bookings are now open via telephone. (03) 5428 2228. Please inform us of any dietary requirements (i.e. Gluten Free or dairy intolerant). We also use our upstairs area so if you have a problem with stairs please let us know to avoid any confusion on the day.
Package includes: Glass of sparkling wine, glass of Wine, Beer or a soft drink on arrival, Taster's Platter, wood-fired pizza and dessert. Espresso coffee at $4.00
Gluten Free Pizzas and a Gluten Free Dessert are available but MUST be pre-ordered. Please advise in advance any dietary requirements and what sort of Gluten Free pizza you would like. (See the list on Menu page on the website.)
If you have any questions please give us a call on (03) 5428 2228.
All of our wines are available by the glass or bottle and we also have beer and soft drink. Come along for a relaxed Father's Day. The table is yours for the day, so bit back and relax.
---
Pruning Day - Class of 2019
We had a great time on Saturday 20 July with 22 willing and ready participants. After some class time with Bob and some not-to-be-missed morning tea by Barb, it was off to the vines armed with sharpened secateurs and blue twine. Watch out vines!! Trepidation and terror set in but after a little bit of practice and patience their skills and confidence were much improved.
Lots of laughs, fun and new friendships! Lunch of Taster's Platters, pizzas, wine (did I say more wine) was enjoyed by everyone. Join us for our next Hands-On day in January 2020 but first there is Picnic in the Vines on Saturday 7 December.

---
'In the Vines' with Bob.
As of 8th March 2019
Picking is getting closer by the day. Measurements today show the Pinot and Chardonnay both sitting on around 10.5 Alc potential and that means we need another 2– 2.5 % additional potential to reach an optimal level of ripeness. Given the forecast that should happen in about four-five weeks' time, subject to weather of course.
The fruit is in exceptionally good condition and at this very moment no disease no European wasps and very little bird damage. The vines have plenty of green leaves to continue their job so I reckon it's time to turn the water off and let them focus on their job of ripening.
If you are interested in joining us for the pick it's looking like first or second weekend in April. More about that later.
---
---
Duet - It's Back!
Due to popular demand our blend of Chardonnay and Semillon is back on the shelves this weekend. The 55% Chardonnay and the rest Semillon, both unwooded, is the formula and the Semillon was allowed to sit on lees to let it soften off. This is a 2018 vintage of both grapes. It is an ideal wine to have with tapas, cheese platters, Marinated white anchovies, roasted chicken with thyme, really anything light and delicious. It's truly a 'classic CDW – a Classic Dry White'. The two make a full-bodied white wine with waxy, tropical flavours.
---
---
We're Still Here!
It's funny how rumours get going isn't it! I guess this is how 'Fake News' starts. In our last newsletter we mentioned that GPW has just been listed on the market for sale. We realise that it is a unique property and it will take a while to find the right buyer. When we know, everyone will know, we promised that. But, I'm getting calls and emails with people saying they heard we were now closed, that we had to rip out the vines in order to sell, that they wanted to book for next week but the winery might not be here, etc, etc. Folks, it's business as usual until you hear (from us) differently. Even when we do sell it will be as an ongoing business with some changes no doubt. So don't listen to the rumours, continue supporting us and the resellers of our wines. We're still here! Hope to see you soon.
---
---
And the winner is: 2011 Riesling!
On Sunday 15 July we had our 'ever so good' Riesling and Seafood Sunday. We tasted four aged Riesling in a flight and it included Rieslling 2014, 2011, 2008 and 2006. Different opinions, different people tasting, different palates but by far, the People's Choice was the 2011! We were quite surprised at that result. Bob, Barbara and Natalie all loved the 2006, Michael liked the 2008. Just goes to show.... people's tastes are different as are their likes.
this event will be held again in Summer. don't miss it.
---
---
---
Groups Bookings - Birthday Parties, Family Gatherings, just no weddings!
Are you aware of our Group Packages for 10 + people and our special areas? Did you know that we have an upstairs area perfect for groups of 15-30 people? Just ask to see it. Obviously there is the heated marquee which holds up to 55 friends and family.
Natalie is our Group Coordinator or talk to any staff member for an information sheet. Look online here for our group packages, prices and private areas.
---
---
TripAdvisor Certificate of Excellence and Hall of Fame Award
We have just been notified that our Winery Cottages have been inducted into the TripAdvisor Hall of Fame. The cottages have been given the Certificate of Excellence for five years in a row which puts them into the Hall of Fame. We're thrilled and very proud of the cottages and the team that makes them so special. That includes our staff at cellar door who are generally the first point of contact upon check in and the behind-the-scene cleaners.
As a celebration we are offering a 25% discount for anyone who mentions 'Hall of Fame' and books direct with us for any stay in June, July or August. Call us for details. 5428 2228 or book a cottage online.
---
New Tasting Experience at Cellar Door
We've put a new option on the cellar door for you to try four half glasses of our wines with extended tasting notes and enjoy these at your table. This is the equivalent of two full glasses and you get it for $20 (value of $22.75). It's a bit of fun and educational and you get to try a few wines rather than just one wine. Try it next time you visit.
---
---
Four 'Heads-Up' Days (forward planning!)
Father's Day and Celebrate Grand-dad Day: Saturday & Sunday September 1 and 2.
Grand Final Holiday – Friday 28 September. Trivia Day! Get a team together, 2, 4, or 6 people, call yourselves anything you want, and participate in our first 'Football Grand Final Trivia Day'. Wear your favourite footy colours and there will be prizes for all sorts of things. Footy food will be available along with our regular menu.
October 20 (Saturday): 'In the Shed With Bob'. Hanging around in the wine shed with Bob. Old wines, surprise wines, current wines. You never know what you will find. Some nice warm soup will be on the boil. Limited numbers. Phone or email to book. Cost TBA. Bookings not yet open.
---
Our Facebook Page - a fountain of information!
---
Our Facebook Page has really come to life now that Caroline has taken custody of it! We hope you are following it as our newsletters are few and far between and there are always updates on what is happening at the winery on Facebook. If not, click here to view the page and click on 'Follow'. We're also on Instagram with some great photos we've taken and some that our guests have taken and shared with us. How about you taking a photo, share it with us and it might get on the Instagram page. We love to share your photographic memories.
---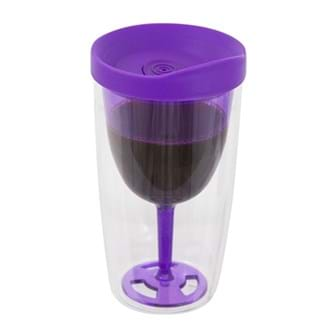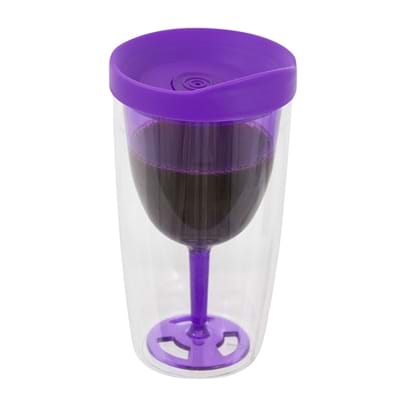 'The Traveller' Wine Glass
EVERY GIRL SHOULD HAVE ONE!
This acrylic wine glass is perfect and has so many benefits! Such as:
Keeps your wine chilled, or at pouring temperature (although you cannot open it to put wine in the outside bit - it would be a good feature though).
Has a lid like a coffee cup for drinking - avoid those messy wine spills
Great for outdoors! Stops flys and wasps from sharing your wine.
Perfect for boats.
Almost unbreakable acrylic. I don't put mine in the dishwasher as some dishwashers put 'cracks' in the acrylic.
You can now order online. Only $19.95 each and very light to post to you. Postage is extra and we will call you for approval to charge your freight costs. OR, pick them up in cellar door. We have sourced these from the USA and have limited stock, so if you want one or two or three as gifts, or for yourself, get in quick! Call us to hold some for you on 5428 2228.
They come in this purple colour or black. Specify which colour on the checkout instructions (delivery instructions) on the mail order form, or just give us a call.
---
A Video of Bob - taken, edited and posted by son David
---
Giborne Peak Winery - a one-minute perspective
Gisborne Peak Winery in 60 seconds. Think Food, Fun and Friends and you've got it summed up. Then, toss in some excellent wines and Voila! A good time! Enjoy
Pruning the Lagrein vines
A video of Bob pruning the Lagrein vines. It is important to get this done before the end of the winter.