Long Table at Dusk Sat 10 Feb 2018 BOOKED OUT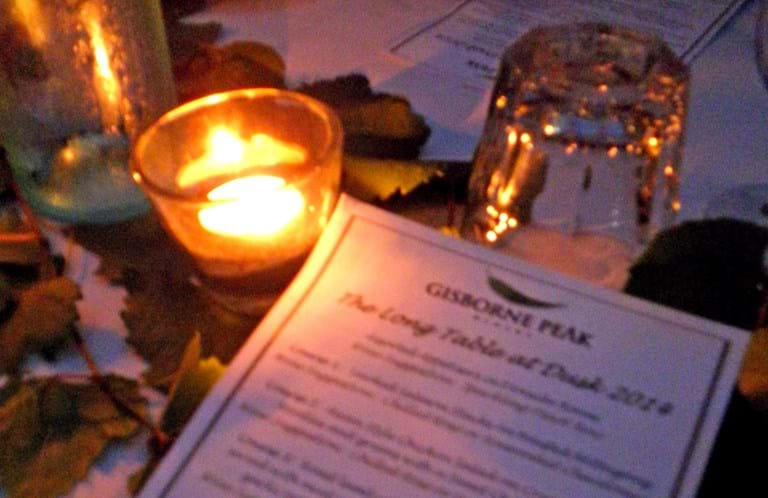 Long Table at Dusk is the one time a year that we open our doors in the evening and invite our guests to join us for a magical dinner amongst the vines. It is an opportunity to immerse yourself in our beautiful vineyard atmosphere whilst enjoying a spectacular five course menu.

Enjoy delicious wines and food to match while you watch the sun set over Mt Gisborne. The lighting is golden, the air is soft and the smells are sweet at this time of day.

We start the evening at 6.00pm with a complimentary glass of Sparkling and appetizers on the deck. It's important to be on time, because at 6.30pm we move out into the vines. Seated at one long, communal table, guests enjoy three delicious courses; wine will be sold by the glass and by the bottle, with pairing suggestions listed on menus. At about 9:00 pm, we will move back into the Cellar Door area and enjoy dessert (with Muscat and Espresso coffee also available as an optional extra).

Bookings are absolutely essential as numbers are limited. In recent years this event has sold out very quickly, so get in quick! Full payment is taken at time of booking. PLEASE NOTE: As this is a set menu, if you have any special dietary requirements you must let us know when booking! We can cater for gluten free and dairy intolerant. Other requests should be discussed with the office as we have limited catering facilities. Suitable footwear for walking in the vines is recommended. Bring a jacket or sweater as the night air can be cool.
Adopt-a-Vine Parents Book Here: $112.50

Note: under 'special delivery instructions please put who you want to be seated with. Or PHONE on 5428 2228

Cost is $125.00 per person ($112:50 for Adopt a Vine Members). This event is not suitable for children. The event will be inside if inclement weather is predicted.
---
---
Pizza of the Month, and we need your suggestions
Finally! We are introducing some additions to the food we serve here at the winery. I think I hear a big sigh of relief out there and a few cheers too! First, a Pizza of the Month. As it implies, this will be a changing pizza. We have some ideas and we've been pinching pizza menus from various places but if you have a really, really good, favourite pizza, let us know. There are forms on our tables and on the information table at the entrance for ideas. You can also just email us your ideas too. Who knows what glory you will get if your suggested pizza is once chosen for the 'Pizza of the Month'? Fame and fortune no doubt!
---
Our Facebook Page - a fountain of information!
Our Facebook Page has really come to life now that Caroline has taken custody of it! We hope you are following it as our newsletters are few and far between and there are always updates on what is happening at the winery on Facebook. If not, click here to view the page and click on 'Follow'. We're also on Instagram with some great photos we've taken and some that our guests have taken and shared with us. How about you taking a photo, share it with us and it might get on the Instagram page. We love to share your photographic memories.
---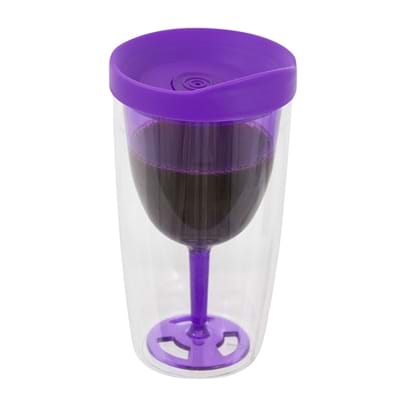 'The Traveller' Wine Glass
EVERY GIRL SHOULD HAVE ONE!
This acrylic wine glass is perfect and has so many benefits! Such as:
Keeps your wine chilled, or at pouring temperature (although you cannot open it to put wine in the outside bit - it would be a good feature though).
Has a lid like a coffee cup for drinking - avoid those messy wine spills
Great for outdoors! Stops flys and wasps from sharing your wine.
Perfect for boats.
Almost unbreakable acrylic. I don't put mine in the dishwasher as some dishwashers put 'cracks' in the acrylic.
You can now order online. Only $19.95 each and very light to post to you. Postage is extra and we will call you for approval to charge your freight costs. OR, pick them up in cellar door. We have sourced these from the USA and have limited stock, so if you want one or two or three as gifts, or for yourself, get in quick! Call us to hold some for you on 5428 2228.
They come in this purple colour or black. Specify which colour on the checkout instructions (delivery instructions) on the mail order form, or just give us a call.
---
A Video of Bob - taken, edited and posted by son David